Rückkehr in VBA-Code-Beispiele
VBA – Application.CutCopyMode = False – Was bedeutet das?
VBA – Application.CutCopyMode = False
Wenn Sie während des Kopierens und Einfügens Makros aufgezeichnet haben, haben Sie wahrscheinlich die folgende Codezeile schon gesehen:
Application.CutCopyMode = False
Diese Codezeile "leert" die Zwischenablage*. Wenn Sie eine Excel-Zelle kopiert haben, wird die Animation um die kopierte Zelle durch die Ausführung dieser Codezeile entfernt:

CutCopyMode ist eine Eigenschaft auf Anwendungsebene, die angibt, ob sich ein Microsoft Office-Programm (z. B. Excel) im Ausschneide- oder Kopiermodus befindet. Im Kopiermodus (oder Ausschneidemodus) hat Excel etwas in der Zwischenablage gespeichert, das eingefügt werden kann.
Es ist mir nicht bekannt, dass Sie Application.CutCopyMode jemals auf True setzen müssen.
Vermeiden von CutCopyMode = False
Sie können in der Regel vermeiden, dass Sie "Application.CutCopyMode = False" setzen müssen, indem Sie die bewährten VBA-Kopier- und Einfügeverfahren anwenden. In der folgenden Codezeile wird beispielsweise eine Zelle in einer einzigen Zeile kopiert und eingefügt, so dass CutCopyMode nicht auf False gesetzt werden muss:
Sub KopierenEinfuegen_EineZeile()
    Range("a1").Copy Range("b1")
End Sub
Status von Application.CutCopyMode ermitteln
Gelegentlich möchten Sie vielleicht den Status von Application.CutCopyMode abfragen. Möglicherweise, um Fehler beim Versuch des Einfügens zu vermeiden, wenn sich nichts in der Zwischenablage befindet. Um den Status abzufragen, verwenden Sie den folgenden Code:
Sub Application_CutCopyMode_Status_Ermitteln()

    Select Case Application.CutCopyMode
        Case Is = xlCopy
            MsgBox "Kopiermodus"
        Case Ist = xlCut
            MsgBox "Ausschneidemodus"
        Case Is = False
            MsgBox "Nicht im Ausschneide- oder Kopiermodus"
    End Select
    
End Sub

*Application.CutCopyMode löscht nur die Zwischenablage der Microsoft Office-Anwendung (z. B. Excel). Die Windows-Zwischenablage wird dadurch nicht gelöscht. Klicken Sie auf den Link, um mehr darüber zu erfahren, wie Sie die Zwischenablage von Windows mit VBA löschen können.
VBA Coding Made Easy
Stop searching for VBA code online. Learn more about AutoMacro - A VBA Code Builder that allows beginners to code procedures from scratch with minimal coding knowledge and with many time-saving features for all users!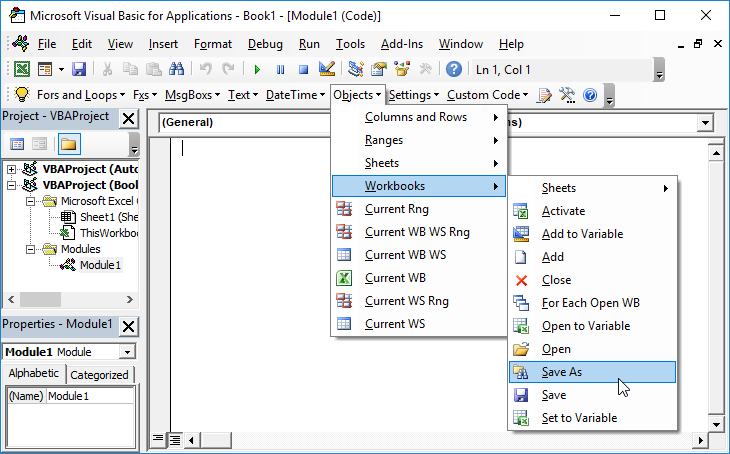 Learn More!