Rückkehr in VBA-Code-Beispiele
VBA Zelleninhalte und ganze Zellen löschen (ClearContents / Clear)
In VBA ist es einfach, Zellen oder ihre Eigenschaften mit den .Clear-Methoden zu löschen.
VBA Zellen und Bereiche löschen
Geben Sie Folgendes in den VBA-Editor ein.
Range("A1").Clear
Daraufhin werden alle verfügbaren Clear-Methoden eingeblendet: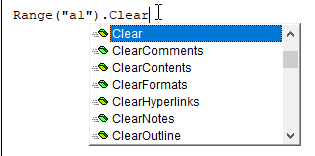 Wie Sie feststellen, können Sie Folgendes aus einem Bereich löschen:
Alles ( .Clear)
Kommentare ( .ClearComments)
Inhalte ( .ClearContents)
Formate ( .ClearFormats)
Hyperlinks ( .ClearHyperlinks)
Notizen ( .ClearNotes)
Gliederung ( .ClearOutline)
VBA ClearContents
Die am häufigsten genutzte Löschmethode ist ClearContents. ClearContents löscht nur den Inhalt von Zellen (Zellwerte oder Texte). Formatierungen, Kommentare oder andere Elemente bleiben erhalten.
Range("B2").ClearContents

ClearContents ist dasselbe wie das Betätigen der Entf-Taste auf Ihrer Tastatur.
Sie können auch den Inhalt eines ganzen Bereichs von Zellen löschen:
Range("B2:C10").ClearContents
VBA Löschen
Clear löscht alle Zelleigenschaften einer Zelle:
Range("B2").Clear

VBA Formatierung löschen
Um die Zellformatierung zu löschen, verwenden Sie ClearFormats
Range("B2").ClearFormats

Auswahl löschen
Um die aktuelle Auswahl zu löschen:
Selection.Clear
Ganzes Blatt löschen
Um ein ganzes Arbeitsblatt zu löschen:
Sheets("Tabelle1").Cells.Clear
VBA Coding Made Easy
Stop searching for VBA code online. Learn more about AutoMacro - A VBA Code Builder that allows beginners to code procedures from scratch with minimal coding knowledge and with many time-saving features for all users!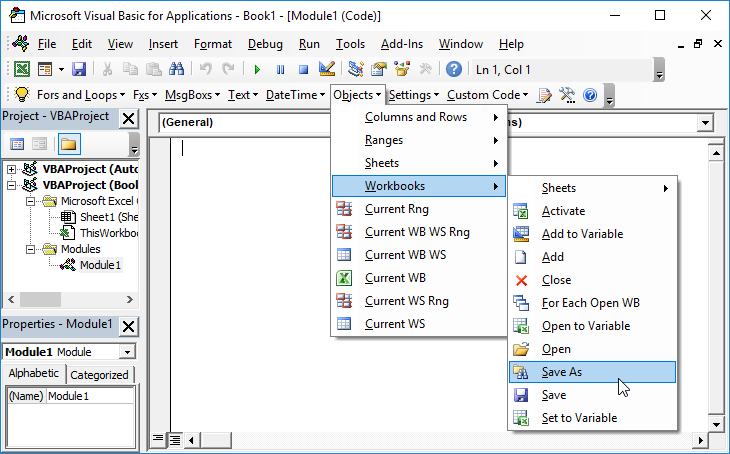 Learn More!