Rückkehr in VBA-Code-Beispiele
VBA – Neue Arbeitsmappe erstellen (Workbooks.Add)
In diesem Tutorial werden verschiedene Methoden zum Erstellen einer neuen Arbeitsmappe mit VBA demonstriert.
Neue Arbeitsmappe erstellen
Um eine neue Arbeitsmappe zu erstellen, verwenden Sie einfach Workbooks.Add:
Workbooks.Add
Die neu hinzugefügte Arbeitsmappe ist jetzt die ActiveWorkbook. Sie können dies mit diesem Code sehen:
Sub ArbeitsmappeHinzufuegen()

Workbooks.Add
MsgBox ActiveWorkbook.Name

End Sub
Neue Arbeitsmappe erstellen und einem Objekt zuweisen
Sie können das ActiveWorkbook-Objekt verwenden, um auf die neue Arbeitsmappe zu verweisen. Auf diese Weise können Sie die neue Arbeitsmappe einer Objektvariablen zuweisen:
Dim wb as Workbook

Workbooks.Add
Set wb = ActiveWorkbook
Besser / einfacher ist es jedoch, die Arbeitsmappe gleich bei der Erstellung einer Variablen zuzuweisen:
Dim wb As Workbook

Set wb = Workbooks.Add
Jetzt können Sie die neue Arbeitsmappe über ihren Variablennamen referenzieren.
MsgBox wb.Name
Neue Arbeitsmappe erstellen & speichern
Sie können auch eine neue Arbeitsmappe erstellen und sie sofort speichern:
Workbooks.Add.SaveAs Filename:="NewWB"
Dadurch wird die Arbeitsmappe als .xlsx-Datei in Ihrem Standardordner (z. B. Eigene Dateien) gespeichert. Stattdessen können Sie die SaveAs mit unserer Anleitung zum Speichern von Arbeitsmappen anpassen. Jetzt können Sie auf die Arbeitsmappe mit ihrem Namen verweisen:
Workbooks("NewWB.xlsx").Activate
Mit diesem Code wird "NewWB.xlsx" aktiviert.
Neue Arbeitsmappe erstellen und Blätter hinzufügen
Nachdem Sie eine Arbeitsmappe erstellt haben, können Sie sie bearbeiten. Hier ist nur ein Beispiel, um der neuen Arbeitsmappe zwei Blätter hinzuzufügen (vorausgesetzt, es handelt sich um die ActiveWorkbook):
ActiveWorkbook.Worksheets.Add Count:=2
VBA Coding Made Easy
Stop searching for VBA code online. Learn more about AutoMacro - A VBA Code Builder that allows beginners to code procedures from scratch with minimal coding knowledge and with many time-saving features for all users!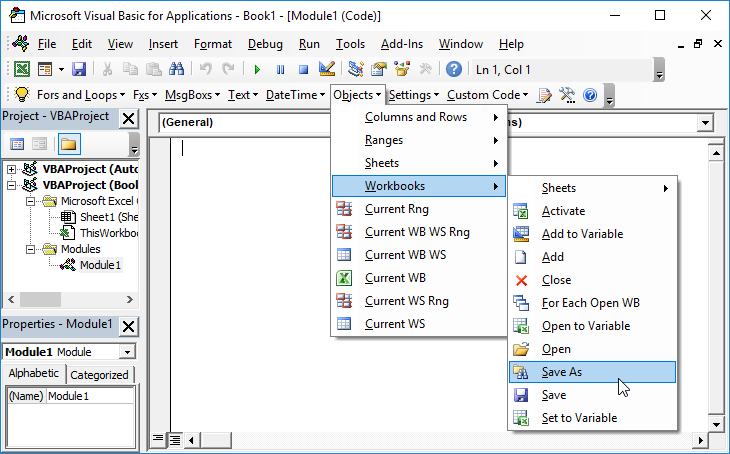 Learn More!