VBA ClearContents / Clear Cells
In VBA it's easy to clear cells or cell properties with the .Clear methods.
VBA Clear Cells / Ranges
Type the following into the VBA Editor.
This will display all of the Clear methods available to you: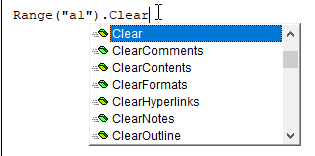 As you can see, You can clear:
Everything ( .Clear)
Comments ( .ClearComments)
Contents ( .ClearContents)
Formats ( .ClearFormats)
Hyperlinks ( .ClearHyperlinks)
Notes ( .ClearNotes)
Outline ( .ClearOutline)
VBA ClearContents
The most common clear method is ClearContents. ClearContents clears only the contents of cells (cell values / text). It does not clear formatting, comments, or anything else.
Range

(

"b2"

)

.

ClearContents

ClearContents is the same as pressing the Delete key on your keyboard.
You can also clear the contents of an entire range of cells:
Range

(

"b2:c10"

)

.

ClearContents
VBA Clear
Clear will clear all cell properties from a cell:

VBA Programming | Code Generator does work for you!
VBA Clear Formatting
To clear cell formatting use ClearFormats

Clear Selection
To clear the current selection:
Clear Entire Sheet
Sheets

(

"Sheet1"

)

.

Cells

.

Clear