In VBA it's fast and easy to clear an entire sheet (or worksheet).
Clear ActiveSheet
Clear Everything (Contents, Formats, Comments, etc.)
This will clear the Activesheet's cells of all cell properties: contents, formats, comments, etc:
Clear Contents
Instead, you can clear ONLY the cell contents:
Clear Formats
or only the Cell Formats:
By typing: Cells.Clear into the VBA Editor you can see the list of Clear methods available to you: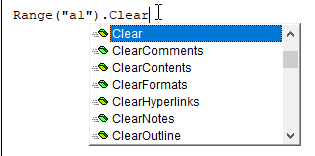 Delete Worksheet UsedRange
You can also delete the entire worksheet's UsedRange. This can also delete objects (shapes, charts, textboxes).
ActiveSheet

.

UsedRange

.

Delete
Clear Sheet (By Name)
To clear a specific sheet use the following code where "Sheet1" is the name of the sheet to clear:
Sheets

(

"Sheet1"

)

.

Cells

.

Clear
Clear Worksheet (From Variable)
To clear a sheet defined by an object variable use the following code:
Set

ws

=

Sheets

(

"Sheet1"

)