How to Install (or Uninstall) a VBA add-in (.xlam file) for Microsoft Excel
Associated Files Download Links
How to Install an Excel add-in
This tutorial will teach you how to install or uninstall a .xlam add-in for Excel.
Save Add-in to Computer
Make sure to download and save the add-in (.XLAM file) to your computer.
Make Sure the Developer Tab is Visible

 
If it's not visible, then follow these Add Developer Ribbon instructions.
Browse For File
Go to Developer > Excel Add-ins > Browse and select your file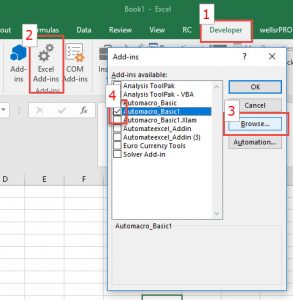 Make sure the add-in has a check mark next to it and click OK.
Your add-in is now installed!
Unloading an Add-in
To unload an add-in simply navigate to the Add-ins dialog box (see "Browse For File" above) and uncheck the add-in.