Make Time Series Graph / Plot – Excel & Google Sheets
Last updated on October 30, 2023
This tutorial demonstrates how to create a time series graph in Excel & Google Sheets.
Make Time Series Graph / Plot – Excel
We'll start with the below data that shows how many clicks a website received per day. We want to show how to visualize this time series.

Creating a Graph
Highlight the time series data
Select Insert
Select Scatterplot
Click on Scatter with Smooth Lines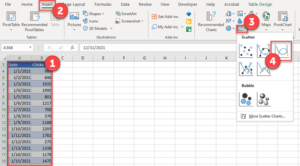 Time Series Scatterplot Graph
You can see the graph that is made below

You can see the final time series graph after cleaning up the X and Y Axis.

Make Time Series Graph / Plot – Google Sheets
Highlight data
Select Insert
Click Chart
And your time series graph is created: