Excel Turn Off Automatic Calculation Shortcut
Last updated on October 19, 2023
This tutorial will demonstrate the shortcuts to turn on/off automatic calculations in Excel.
Automatic vs. Manual Calculations.
When calculations are set to Automatic, cell values calculate. When, calculations are set to manual, they will only calculate when you tell them to (by pressing F9). Turning off automatic calculations can help speed up your workbook if you use massive amounts of formulas.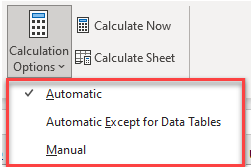 Manual Calculation Shortcut
Remember This Shortcut:
Alt is the command to activate the Ribbon shortcuts. M for Formulas, M for Manual
Automatic Calculation Shortcut
Remember This Shortcut:
Alt is the command to activate the Ribbon shortcuts. M for Formulas, A for Automatic