Easy Excel Automation
Automate Excel in seconds.
No coding required!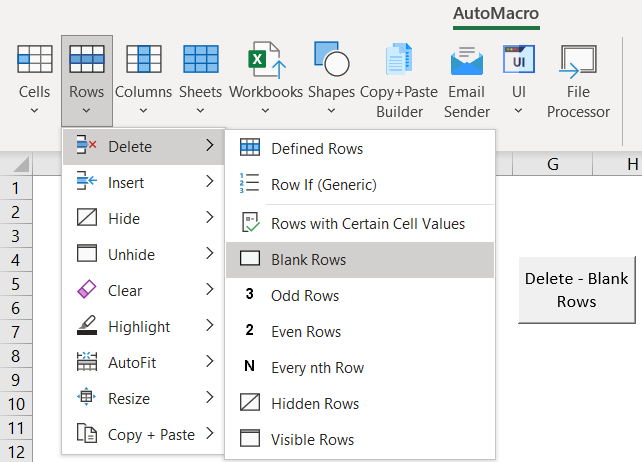 Excellent
1008 Reviews on

How AutoMacro works
Use AutoMacro's simple menus to select your automation
Automations are added to Excel as "macros"
Once added, macros can be used by anyone
Installation of AutoMacro is not required!
Absolutely no coding required!
Automate thousands of tasks
Step 1. Choose what to perform actions on
Choose between Cells, Rows, Columns, Worksheets, Workbooks, or Shapes.

Cells
Rows

Columns

Worksheets

Workbooks

Shapes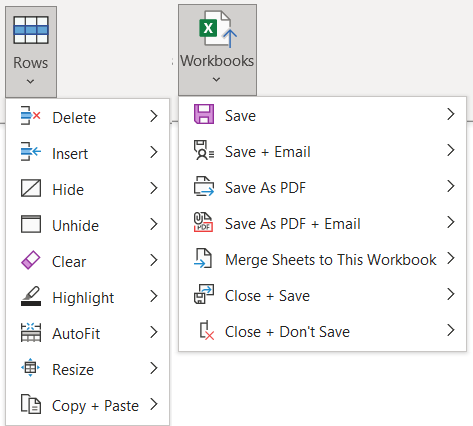 Step 2. Choose action(s)
Choose action(s) to perform on your Excel objects.
Step 3. Add Rule to determine when to apply actions
By adding rules, you can limit which objects are acted on. For example:
Delete only blank rows
Save workbook(s) based on name
Email worksheets based on name
Highlight cells with errors.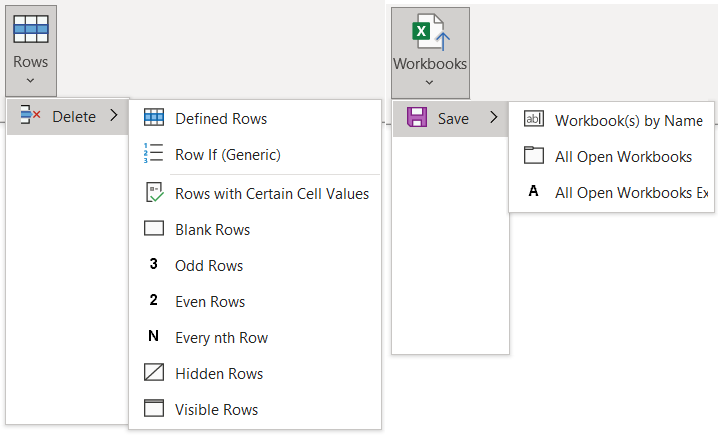 Additional Features

File Dialog Boxes
Create user interfaces to prompt the user to open or save files to or from a certain folder.

Copy Paste
Easily create macros to copy (or cut) and paste cells. Optionally paste only values or formats, or transpose.
---
Four different ways to add automations
Run automation one-time

For quick spreadsheet clean-up

Add automation button (or custom shape) to your workbook

Anyone can easily use automation (even if AutoMacro is not installed)

Run automation when certain "triggers" occur

Cell value change
Cell Selection change
Worksheet activate or deactivate
Workbook open, save
& more!

User Interfaces

Let user decide what automation is performed

AutoMacro has been used by employees of these organizations. These organizations do not endorse, approve, sponsor, or otherwise have any affiliation with this website, Spreadsheet Boot Camp LLC, or ToolFive Software LLC.
FAQ and Other Information
What is your refund policy?
We have a 30-day, no-questions-asked, 100% money-back guarantee. If you're unsatisfied for any reason, let us know and we will refund your order!
Can I try AutoMacro for Excel before I buy?
Can I install AutoMacro for Excel on my Work Computer?
Yes! AutoMacro for Excel works in many corporate environments. It was designed to be as unobtrusive as possible and should install without the need for "admin privileges".
Will AutoMacro for Excel work on my system?
AutoMacro for Excel is compatible with all versions of Microsoft Office for PCs after Excel 2003.
32-bit or 64-bit
Office 2007, 2010, 2013, 2016, 2019, Office 365, etc.
All Versions of Windows
Surface Pro
AutoMacro for Excel is not compatible with Mac operating systems. However, some Mac users running Windows OS are able to use AutoMacro.
If you have doubts, please try the download link above to check.
AutoMacro for Excel is not compatible with Citrix environments.
Can I use on more than one computer?
Yes, AutoMacro for Excel can be activated on any two computers at one time.
Join the Thousands of Professionals Who Use AutoMacro
"Great product, haven't stopped using it since I purchased it. It doesn't just write your code, it teaches as you go!"
Tony D - United Kingdom
Steve Rynearson:
Creator of AutoMacro
Over the years, I've spent countless hours searching online for example code and adapting that code to my needs.
I often found myself clicking the same links and copying the same code. I thought there has to be a better way!
AutoMacro eliminates much of this need to search online for code. Instead simply use the menus to select pre-built code or use the builders to generate code for your exact needs.
Additionally, the coding tools will save you time and help you develop more professional looking code.
For anyone coding VBA, AutoMacro is a life-saver. You'll code much faster, develop more professional code, and learn VBA much faster (if you're not already an expert).