Use Scientific Notation in Excel & Google Sheets
This tutorial demonstrates how to use scientific notation in Excel and Google Sheets.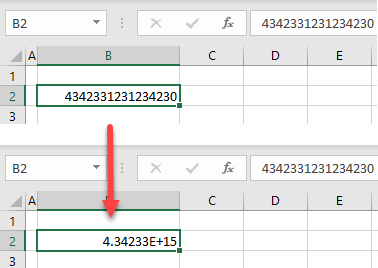 Add Scientific Notation
By default, Excel uses scientific notation to shorten large numbers. If you have removed scientific notation (eg. 1,23E+10), you can easily bring it back. Say that you have the following number in cell B2.

To add scientific notation, and make the number format shorter, (1) select a cell (B2), and in the Ribbon, (2) go to the Home tab, and in the Number Format drop-down, (3) choose General.
When you change the cell format back to General, Excel will automatically add scientific notation.

Remove Scientific Notation in Google Sheets
Google Sheets don't use scientific notation. In case that a number entered in a cell is longer than the width of the cell, only the visible part of the number will be displayed, without changing the format.