How to Break All Links in Excel & Google Sheets
This tutorial demonstrates how to break all links in Excel and Google Sheets.
Links in Excel
When you work with multiple Excel files, you will often have some cells pulling data from other workbooks. In that case, every connection to another file is a link. Say that you have Excel workbook File 1 that has value in cell B2 linked to cell B2 in workbook File 2.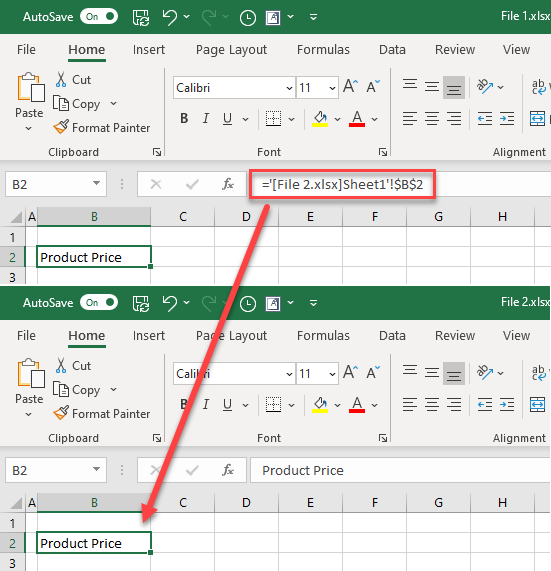 As you can see in the above example value in File 2 cell B2 is Product Price. This cell is linked to cell B2 in File 1, therefore this cell has the same value. This means that if you change the value of cell B2 in File 2, it will also be updated in cell B2 in File 1. Let's now change it in File 2 to Product Name.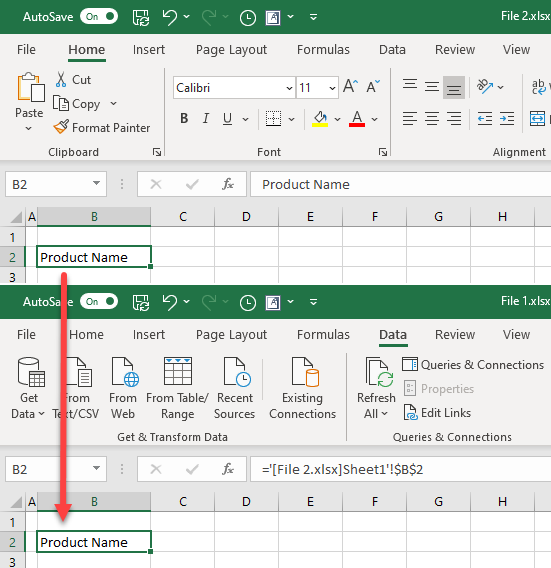 The value in File 1 is automatically changed to Product Name, because of the link. In order to see and edit all links to the other workbooks, in the Ribbon, go to Data > Edit Links.
In the pop-up window, you can see all workbooks that are connected to the current workbook. In our example, that is File2.xlsx.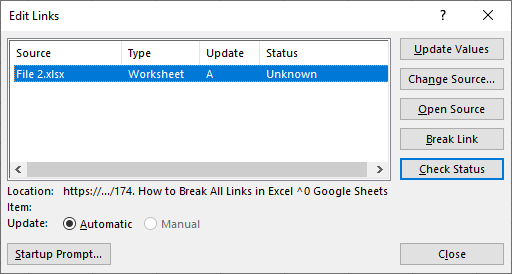 Break All Links
If you don't need existing connections to other workbooks and want to keep the existing values, you can break all links in the file. We also added one more connection to our example (cell B3 in File 1 is connected to cell B2 in File 3). In order to do this, follow these steps:
1. In the Ribbon, go to Data > Edit Links.
2. In the Edit Links Window, (1) on the keyboard press CTRL + A, to select all connections, then (2) press Break Links (confirm the pop-up message), and (3) Close the window.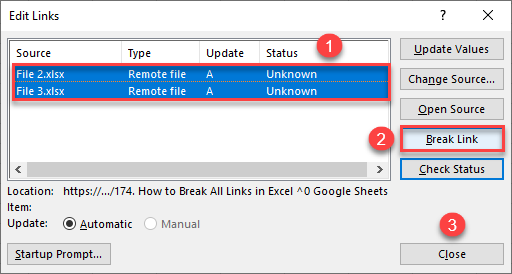 As you can see, the value in File 1, cell B2 is not connected to File 2 anymore. This also applies to cell B3.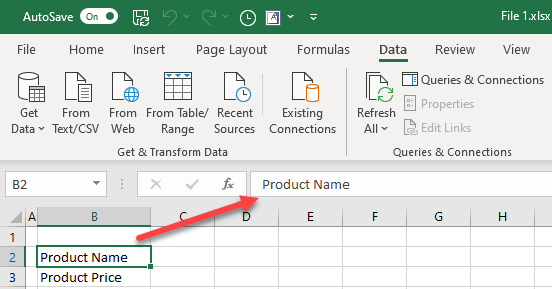 If you go and edit values in File 2, cell B2 to Product and File 3, cell B3 also to Product, you can see that values in cells B2 and B3 in File 1 remain the same.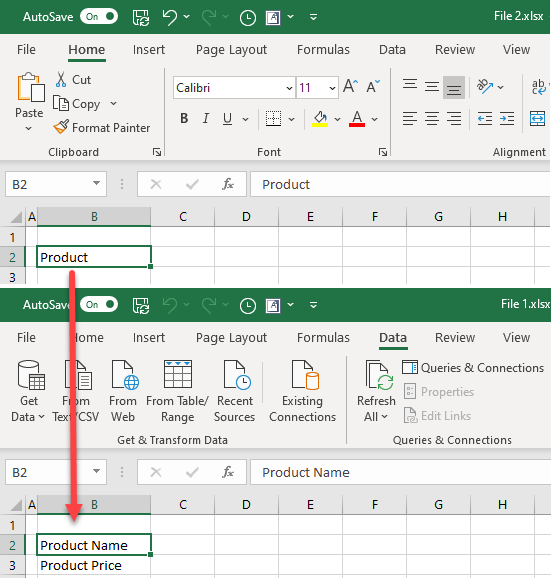 Note: Be very careful when breaking links in the workbook with many connections to other workbooks. It may cause your formulas to break and return errors.
Break Links in Google Sheets
In Google Sheets, files are linked using formulas, and can't be broken the same way as in Excel. However, you can remove the hyperlinks in a spreadsheet.