Excel Paste Formats and Format Painter Shortcuts
Last updated on October 19, 2023
This tutorial will demonstrate the shortcuts to Paste Formats in Excel.
Paste Format Keyboard Shortcut
Pasting a format is useful when you want to copy the format of an existing cell and paste the same format to another cell, without pasting anything else..

Paste Formats is found under the Paste Special menu:
Paste Format Shortcut
Copy the formatted cell by pressing CTRL + C

Click on unformatted cell and press  ALT + H + V + R

Another option is pressing ALT + E + S.
This will bring up the below window. Use T to select Formats and Enter to apply the paste special.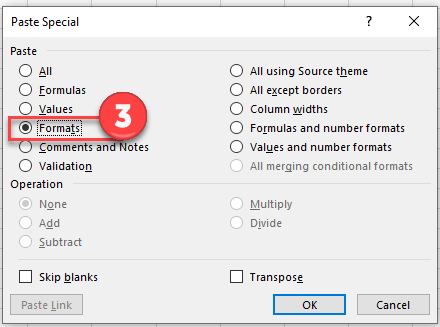 Both options will paste the format of the cell you originally copied.