Return to List of Excel Functions
ISNA – Test if cell is #N/A – Excel, VBA, & Google Sheets
Download Example Workbook
Download the example workbook
This tutorial demonstrates how to use the Excel ISNA Function in Excel to test if a cell results in #N/A.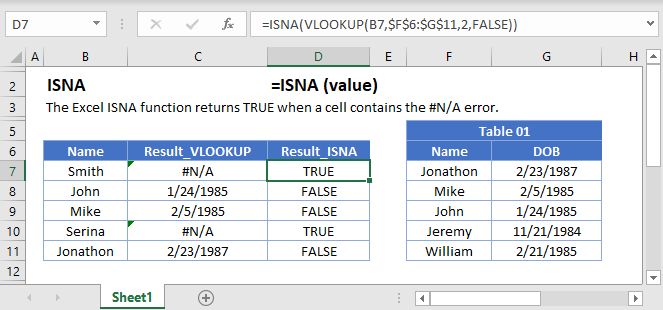 ISNA Function

Overview
The ISNA Function Test if cell value is #N/A. Returns TRUE or FALSE.
To use the ISNA Excel Worksheet Function, select a cell and type:

(Notice how the formula inputs appear)
ISNA Function Syntax and Inputs:
=ISNA(VALUE)
value – The test value
How to use the ISNA Function
The ISNA Function checks if a calculation results in any error, except the #N/A error.
=ISNA(A2)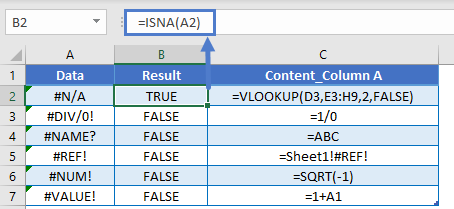 ISERROR, ISERR, and ISNA
There are two other error checking "is" functions:

The different "is error" functions exist so you can decide what to do about potentially valid #N/A errors.
IFNA Function
Instead of the ISNA Function, you can also use the IFNA Function to do something if an error is detected (instead of simply returning TRUE / FALSE).
Other Logical Functions
Excel / Google Sheets contain many other logical functions to perform other logical tests. Here is a list:
Easy Excel Automation

Add Excel automation to your workbook with just a few clicks.
ISNA

 in Google Sheets
The ISNA Function works exactly the same in Google Sheets as in Excel:
ISNA Examples in VBA
You can also use the ISNA function in VBA. Type:
application.worksheetfunction.isna(value)
On the sheet below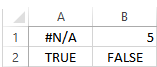 Executing the following VBA code
Range("A2") = Application.WorksheetFunction.IsNA(Range("A1"))
Range("B2") = Application.WorksheetFunction.IsNA(Range("B1"))
will return TRUE for cell A1, which is #N/A, and false for cell B2 which is 5
For the function arguments (value, etc.), you can either enter them directly into the function, or define variables to use instead.
Return to the List of all Functions in Excel