Return to List of Excel Functions
TRUE Function Examples – Excel & Google Sheets
This Tutorial demonstrates how to use the Excel TRUE Function in Excel to return the logical value TRUE.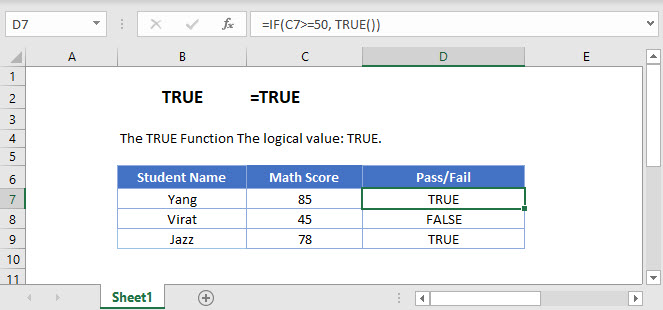 TRUE Function Overview
The TRUE Function The logical value: TRUE.
To use the TRUE Excel Worksheet Function, select a cell and type:
(Notice how the formula inputs appear)
TRUE Function Syntax and Inputs:
=TRUE
TRUE Function
The TRUE Function returns a logical value of TRUE.
=TRUE()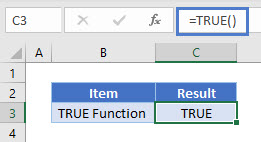 TRUE Function & IF Function
Generally the only time this function is used is within an IF Function to output the BOOLEAN value TRUE.
The boolean value TRUE is different from a text string "TRUE".
First, Excel treats TRUE = 1 and FALSE = 0 .
By multiplying these boolean values with a result, you can output the TRUE if condition is true or FALSE if otherwise. Read more about the FALSE Function here.
=IF(C3>=50, TRUE())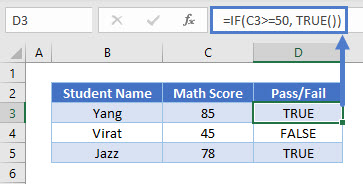 Also, these boolean values can be fed directly into an IF Statement
=IF(B2>=50, TRUE)
TRUE Function & NOT Function
The TRUE Function can also be used with the NOT Function.
=IF(NOT(B2<=50), TRUE)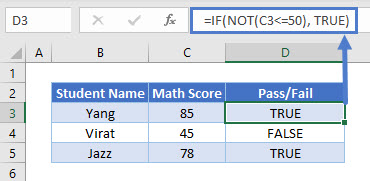 TRUE in Google Sheets
The TRUE Function works exactly the same in Google Sheets as in Excel:


Easy Excel Automation

Add Excel automation to your workbook with just a few clicks.
Additional Notes
To use the logical values TRUE or FALSE you can simply type "true" or "false".
Return to the List of all Functions in Excel