How to View List of Worksheet Tabs in Excel & Google Sheets
This tutorial demonstrates how to view a list of worksheet tabs in Excel and Google Sheets.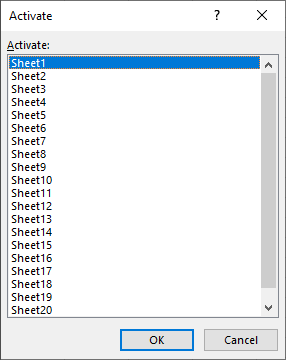 View List of Worksheets
At the bottom of an Excel file, you can see tabs representing each sheet. When there's a lot of sheets in a document, not all of the tabs can be displayed at once. In the following example, there are 20 worksheets, but only 7 of them are visible.

To see the whole list of worksheets, right-click the arrow to the left of the sheet tabs.

All worksheet names are displayed in the pop-up list.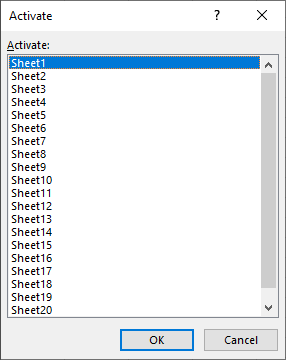 To jump to a certain sheet, select the sheet's name (e.g., Sheet5) and click OK.
Cell A1 in Sheet5 is now selected.
View List of Worksheets in Google Sheets
In Google Sheets, you can see the list of worksheets by clicking on the All Sheets icon to the left of the tabs.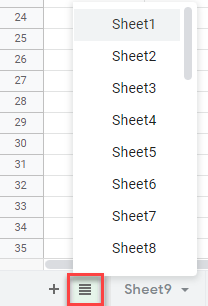 If you scroll through the list, you can see all sheet names. As in Excel, clicking on a sheet's name leads you to that sheet.
See also: How to Rename a Worksheet, How to Search All Sheets, and List Sheet Names with Formula.